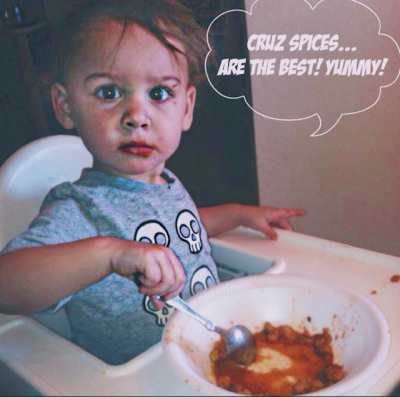 Cruz Spices is a family run business owned by Richard Cruz Sr. and the late Linda Cruz. Around 15 years ago Richard was working as a Dental Tech and decided to come up with a recipe to make his menudo in a way that was easy for anybody to make.
This is what started everything... He came up with a Menudo mix that allowed the consumer to add the Menudo mix with the ingredients listed on the bottle. Thats it! He became the Texas World Championship Menudo Cook-Off winner six different times! He was then asked by his friends to make something for steak and fajitas or any cut of meat, and that is how his America's Finest Steak seasoning and Fajita seasoning came about. Our steak seasoning has truly been our #1 selling spice throughout Texas. Through the years our dad, Richard, was receiving more orders for his spices and asked to add more flavors. Richard has always had a love for cooking for his family and friends, so why not try and come up with some more really amazing spices to enhance our food.
Since then, he has turned his love of cooking into a solid business that continues to grow and maintain the integrity and family values he began with. He now has eight different spices and rubs and even added a Beer Salt for that cold beer or cocktail. The rest of our spices are absolutely delicious and have been doing great in sales! We have Jerky Seasoning, Lemon Pepper, Brisket Rub, Bar-B-Que Rub, and Pork Seasoning. Cruz Spices continues to grow and do well everywhere we are being sold. As a family, together we will continue to put our customers first and make our spices available to everyone!